Scarpa & Marina
Scarpa

 
A five year old very sweet male, was just neutered and updated on all medical A very calm, sweet boy who would love to be part of a loving family. Currently in the healing process but will be available to take visitors soon! Scarpa will be with us for a couple of months. He needs surgery to clean up the scar tissue due to being devocalized. This was a huge surprise to us but we are going to do whatever will make Scarpa's quality of life the best!
We will be following up on plans for Scarpa with our veterinarian.  As it stands currently, Scarpa will have the same surgical procedure as did his sister, Marina, to clean up scar tissue which will enable him to breath easier. Stay tuned for his updates!
Scarpa is going for a re-evaluation and surgery determination on April 10th…stay tuned for our update!
It has been decided that Scarpa will be going for his surgery in approximately two weeks…the boy should have an easier time breathing this summer!
UPDATE: Scarpa had laryngeal keel surgery on 5/15 … he is being kept quiet and comfortable during the healing process…hot compresses, domeboro solution, and powder to  keep the area clean and dry…anti biotics and paid meds also….he will be re-evaluated in a month or so … stay tuned!
Because of draining and huge folds of skin, healing for Scarpa has become quite a challenge for all of us…three separate trips to the vet for sedation and re-suturing…our creative vet figured out a way to keep the area covered comfortably for Scarpa to faciliate the draining while healing…we are hoping stitches come out later this week…he is eating and happy…and resting!
UPDATE: The boy is healed and the stitches are out! Hooray! Next on his agenda is to revisit the surgeon for periodic rechecks…this has been a long road for Scarpa and Marina…but well worth it!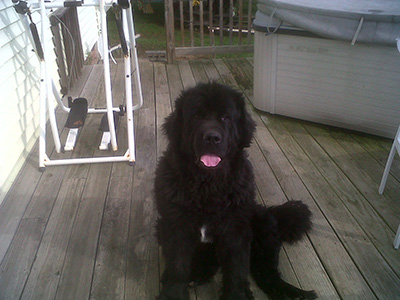 Marina
Marina is a 5 year old spayed female…happy and loving…she has recently come in to rescue, has been vetted, up to date on all vaccinations, etc., and is looking for the right home. We are just getting to know her but feelings are she will do well in a family situation with kids and other pets.  Scarpa and Marina are littermates…both have been devocalized…both need surgery…both are AMAZING…great in the house, with kids, with other dogs…both will be here for a couple of months due to needed surgery …to ensure that they have what they need to lead a quality life.
UPDATE ….. Marina had her surgery today to clean up throat scar tissue which developed from being devocalized … scar tissue was extremely vascular… which means there is more bleeding than normal…Marina is an amazingly sweet girl….please keep her in your positive thoughts…we will be talking with our extraordinary veterinarian in the morning and hopefully she will be home with us tomorrow evening! Please stay in touch with us about Marina! We LOVE you Marina!!!!!
Marina is home, eating, and is her happy self! AND…her breathing is noticeably better already! Stitches come out in 10 days and a recheck in 5 weeks to check her throat…so far so good!
One week to go until Marina's recheck! We are so excited to see how her surgery has helped her quality of life…certainly she sounds so much BETTER and is a happy, sweet girl! Stay tuned for her update!
Marina's recheck went well…she is healing nicely and is certainly breathing better. She will live with certain restrictions for the rest of her life due to the devocalization but she is definitely loving life!
Marina heads back to our veterinarian for a recheck on April 10th…stay tuned!
Marina's surgery appears to have been a success…the scar tissue is not growing back…being stopped by the keel implanted in her throat…she will also have an easier time with the heat of summer this year!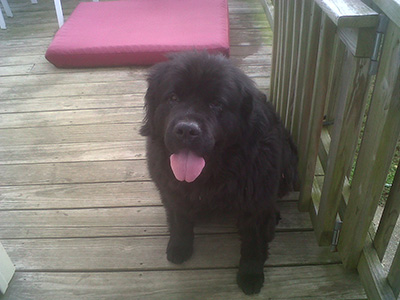 UPDATE ON SCARPA AND MARINA … NOVEMBER 11, 2013
Scarpa and Marina are doing amazingly well…as I write this, they are sleeping in the living room….we have had so many kind people follow their story and so many have offered to adopt them but because of what these two dogs have been through and because of the potential complications that could arise as they get older due to their being devocalized, we have decided that this will be their forever home. Our veterinarians responsible for their surgeries and for their well being are close and familiar with the issues at hand. This gives us great peace of mind. We hope that you will come and meet them at our open house functions…they are amazing ambassadors of the Newfoundland breed!
UPDATE … MARCH, 2015
Marina continues to do well…sadly, Scarpa developed a very aggressive intestinal cancer and passed away shortly thereafter. Scarpa was an amazing dog and has left a huge hole in all of our hearts…we are grateful that we were able to help him live the last years of his life normally…being able to breathe comfortably … he is sorely missed. Our thanks to our amazing veterinarians who are always there for us!