Bertha
LATEST BERTHA UPDATE!
WE'VE BEEN ABLE TO GET HER ANEMIA UNDER CONTROL…SHE IS EATING, PLAYING, AND DOING SO MUCH BETTER…FINALLY WE WERE ABLE TO GET BERTHA SPAYED…TWO WEEKS AGO…HEALED GREAT AND BACK TO NORMAL…WELL…HER NEW NORMAL…HERE ARE TWO NEW PICS … BOTH OF HER RELAXING…LOOK AT THE DIFFERENCE FROM WHERE SHE STARTED! SHE IS NOW READY FOR HER NEW FOREVER HOME…PLEASE COME AND MEET BERTHA!
Bertha … June, 2015

Bertha … NOW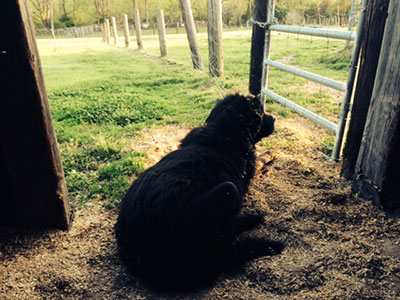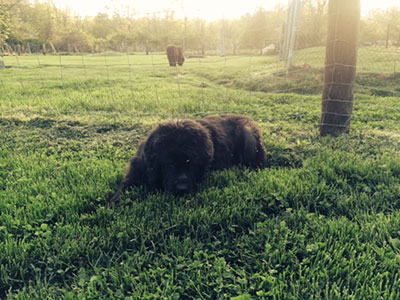 Bertha…THEN

Bertha came to us a week ago…a hardship case … owner surrendered … skin issues are not new to us…she is a sweetheart and deserves whatever can be done for her…thankfully she has no mange mites…we are treating her for Lyme disease….her blood work shows that she is anemic…we are working on getting her anemia under control then we can proceed with meds for her other issues…we will keep you updated on her progress.
UPDATE…Bertha has gone from a 13% to a 30% PCV… normal for range to indicate NO anemia is 36% … we are getting there! Another blood test next Monday and hopefully the girl will be hitting the normal range! It's been two weeks and she is actually looking better and has more energy! YAY Bertha!
BERTHA….2016
By now you may know that Bertha, due to health issues, has taken residence here in Coventry CT at That Newfoundland Place…many of you have seen her at open house functions…she is doing quite well with her meds…and now she has…just this year…actually gone SWIMMING! She has had opportunity after opportunity to swim in the pond…NEVER wanted to get her feet even wet…all of a sudden things have changed…now she swims laps…chasing the Wubba…which she loves…so all is good with Bertha! We love her!